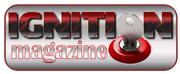 Ignitiion Magazine was a project started by rockintyler8 sometime in June 2012.  It was a magazine company inspired by RoGo, and it is currently (as of December 2012) an ongoing project.
After being created, the magazine got support from many car companies, such as KZ Automobiles , CF Motors , and at a later time Blue Motors.
Magazine Giver
Edit
Founder rockintyler8 succeeded in making a working giver, something RoGo was unable to do.  The giver worked by having the user take the "Giver" model and the "Magazine" model.  This way, places would allow the giver to give visitors a copy of the new magazine.  The giver was popular among the automotive industry... to a point where even Blueice506 , chequeredflag1 , and KRio99 took it.  The model even spent some time in the CF Motors Headquarters, until its removal after the September Shutdown.
September Shutdown
Edit
After rockintyler8 lost inspiration in the project, he gave up.  Planning to revive the project on a later date, he had buddyman1999 hold the group.
The project was revived on December 9, 2012 from rockintyler8's increased interest.  New rules were put in place that made all groups have a representative.  
Sponsoring Companies
Edit
The following is a list of companies who sponsor (participate in) Ignition Magazine Events.
*Person informing the magazine on events happening in his or her group.
**Pending Review